PACK MULE CUSTOM CARTS
WE BUILD
SOLUTIONS.
At PACK MULE we can design
CUSTOM CARTS to meet your
unique requirements.
PACK MULE's Custom Cart solutions provide the engineering and application design resources to meet your needs. Plus, we'll get it to you in half the time other trailer manufacturers require, sometimes a lot less than half.
We'll be glad to provide a towable cart for you to try, doing your work in your work environment. When you use it, you'll see that the Pack Mule towable cart is stronger, safer and built to reduce both downtime and maintenance.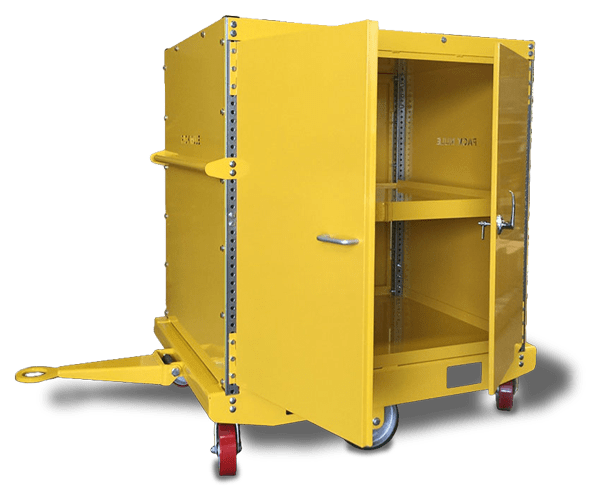 A few of PACK MULE's Custom Cart solutions.
The PACK MULE Difference
In order to make the best towable carts in the industry, we look at the competition. Here are a few of the features you get with a Pack Mule towable cart that you can't get with others.
RUGGED CONSTRUCTION: The industry's only deck formed from a single sheet of steel. Others use lighter-weight steel and welded decks.
FLEXIBLE CONFIGURATION: Get the trailer you need fully configured without delays and order accessories at any time if your needs change. Nobody else has that.
SERVICE AND SPEED: We've learned what it takes to buy a trailer from the others. We'll get you the trailer you need with less hassle and in half the time as the others. Sometimes sooner.
THREE YEAR WARRANTY: Pack Mule offers the only three-year warranty in the business, just like we do on our electric vehicles.
DON'T JUST TAKE OUR WORD FOR IT.
Try a PACK MULE vehicle and/or trailer in your facility. No commitment required.
We've been helping manufacturers and distributors move materials horizontally for more than 60 years, and we've learned what customers need to get the job done. That's the reason we build PACK MULE to a higher standard—and that's why we encourage you to test them in your facility, doing your work.