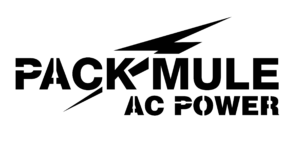 Pack Mule made AC power standard on all its vehicles to improve performance, lengthen component life, reduce maintenance, and increase safety.
For years, AC power has been an expensive, added-cost option on electric utility vehicles. By focusing on AC power we've succeeded in eliminating the upgrade cost and have created our most powerful, safest, and most reliable vehicle to date. These are the same reasons that Tesla and all other major automakers producing electric vehicles are using AC motors.
Pack Mule's decision to offer state-of-the-art AC power on its entire line of new NXG vehicles at no extra charge is indeed revolutionary. When combined with Pack Mule's other market-leading features, there is no reason a serious user should ever choose an electric industrial vehicle other than the Pack Mule NXG:
245 amp hour batteries (vs. industry standard of 185-210 amp hour batteries)
Load range C tires (vs. industry-standard load range B tires) are safer and allow for much higher psi inflation, reducing roll friction and increasing runtime.
Sealed transaxle, wheels, and motor requiring no maintenance.
Industry-leading 3-year warranty with no hours of use limit (vs. industry-standard 2-year warranty).
Here are a few more reasons why Pack Mule's new NXG Series of AC vehicles is better, some directly and others indirectly attributable to the use of AC.
While the AC motor itself enhances run time by 20% to 40% versus DC, Pack Mule's optimized AC system uses enhanced regenerative braking, advanced programming, and control of operation that can boost the Pack Mule NXG to provide nearly double the run time than DC competitors. This leads to fewer interruptions in operations for charging. It also reduces your overall cost of operation by requiring fewer charges per day, thereby extending your battery life. Pack Mule vehicles generally last well beyond 10 years, so the savings in battery replacement costs alone could be in the thousands of dollars for a single vehicle.
DON'T TAKE OUR WORD FOR IT.
Try a PACK MULE vehicle and trailer in your facility.
No commitment required.
We've been helping manufacturers and distributors move materials horizontally for more than 60 years, and we've learned what customers need to get the job done. That's the reason we build PACK MULE to a higher standard and why we encourage you to test them in your facility, doing your work.