Since 2012, Pack Mule has offered the longest, most comprehensive warranty in the industry. After nearly a decade, our competitors still can't meet the level of coverage and service you get with Pack Mule.
Here's what you get with a PACK MULE warranty:
With no limits to how often you use your equipment.
We cover all shipping and freight costs.
More Dealers, More Options, Better Service 
With over a thousand dealers across the US and Canada, Pack Mule supports its customers with the largest dealer network in North America.
The fine print (at full size)
Industry-standard items not covered under warranty:
Batteries & Tires - These are covered by the manufacturer's warranty.
Damage during freight/delivery - This is covered by the shipping agency.
Obvious misuse/abuse of the equipment.
Unauthorized modifications or alterations.
There are a few more caveats - if you've read this far you may be interested in reading our full warranty (pdf) or the warranty claim process.
Dedicated Service and Support
We encourage a culture of clear communication and support for our customers long beyond the sale. This is why we provide in-house customer service and support. We're here to keep you running, so when you need us, we move fast. The majority of our service orders ship on the next day, sometimes sooner.
I needed the battery cables for a Pack Mule. I dealt with Linda Banks, and she was very helpful, sending me the breakdown of the equipment so my technician and I could figure out all the parts we needed.
Manny
I like the regen. features the AC motor technology provides. The industry-leading warranty is a great selling point. The quality of the product and the helpful service people make the difference.
Anytime I need them, they're always on the ready. Whether it's a whole unit, parts , etc. there is never a delay or backorder issue. The customer service is knowledgeable and friendly, highly recommended.
Carrine
Everyone I have spoken with at Pack Mule answers quickly and efficiently, I never have to second guess the answers I receive, and my parts have always been correct and punctual the first time. Thanks so much, Parts Team! 🙂
The Pack Mule parts department is a top-notch operation with an extensive parts inventory to keep downtime to a minimum. Great job, Pack Mule!
Timothy B.
I recently purchased my second Pack Mule product on behalf of a retail customer and I can honestly say they are the number one supplier of these types of vehicles. Their customer service is second to none and will go the extra mile to make certain you are a satisfied customer and the quality of the vehicles is as good as the customer service.
Chris S.
Excellent product and Customer Service. The products are very durable and low maintenance. Keep up on the general maintenance and products will last years beyond any competitor.
Don
How does our warranty compare?
| Company | Term | Parts | Labor | Freight |
| --- | --- | --- | --- | --- |
| PACK MULE | 3 Years / Unlimited-Hours | | | |
| Cushman | 2 Years / Unlimited-Hours | | | |
| Motrec | 3 Years or 3,000 Hours | | | |
| Columbia | 1 Year / Unlimited-Hours | | | |
| Taylor-Dunn | 2 Years or 2,000 Hours | | | |
How Long will my warranty last?
Based on a single 8-hour shift, 40-hour week, and not including holidays (about 250 workdays a year):
PACK MULE  3-Year Unlimited Hours
Cushman  2-Year Unlimited Hours
MOTREC  3-Years or 3000 Hours
COLUMBIA  1-Year Unlimited Hours
TAYLOR-DUNN  2-Years or 2000 Hours
How can Pack Mule offer a longer warranty?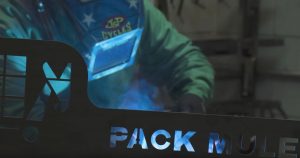 It's pretty simple. Pack Mule is dedicated to the design and manufacturing of the toughest, most reliable, most efficient vehicles in the industry.
Our electric vehicles and towable carts are built to withstand the rigors of industrial environments and to work for our customers for many years. By using tougher materials and better components, we can offer the best warranty and provide the assurance our customers need, that their down-time will be minimal, and our top-notch customer support goes a long way to making that happen.
We've kept our 3 Year Unlimited-Hour Warranty for this long -- and just like our Pack Mules, we're still going strong.

DON'T TAKE OUR WORD FOR IT.
Try a PACK MULE vehicle and trailer in your facility.
No commitment required.
We've been helping manufacturers and distributors move materials horizontally for more than 60 years, and we've learned what customers need to get the job done. That's the reason we build PACK MULE to a higher standard and why we encourage you to test them in your facility, doing your work.